There are many sources of noise pollution in Louisville. Ordinary, everyday sounds can damage the hair cells of the inner ear, leading to irreversible hearing loss. We're used to hearing about loud music, sporting events and recreational activities such as riding jet skis and dirt bikes. A Canadian teen wondered whether something far less obvious – automated hand dryers – might also cause harm.
Noise-Induced Hearing Loss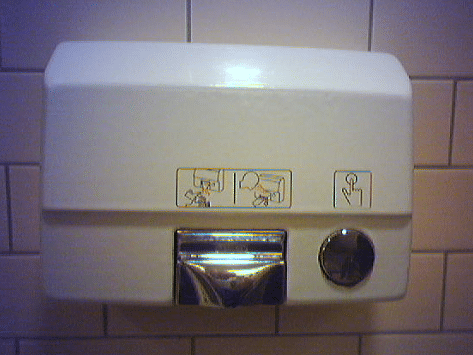 The biggest cause of hearing loss isn't aging, as many people believe, but noise. Exposure to sounds with dangerously high decibel levels – 85 dB or higher – can lead to permanent hearing impairment. People of all ages are susceptible to noise-induced hearing loss (NIHL) – even kids.
13-year-old Nora Keegan from Canada questioned whether hand dryers might be a source of noise-induced hearing loss, so she decided to find out. This ambitious teen's study was published in the journal Pediatrics & Child Health.
Few people give hand dryers much thought, but with average decibel levels exceeding 100 dB – one model was measured at 120 dB – the danger posed to hearing is real. Irreversible damage can occur in as little as five minutes at these volume levels. Granted, most people dry their hands for no more than 30 seconds at a time, but there is still cause for concern – particularly for children, whose smaller size means their ears are often level with the airstream from these devices.
Keegan investigated and measured decibel levels of hand dryers in public restrooms in her hometown of Calgary for over a year in order to determine how noisy they were. Her interest was spurred after she observed kids in bathrooms covering their ears and avoiding using the dryers. She herself had noticed they sometimes caused ear pain.
When she didn't find decibel levels posted online by hand dryer manufacturers, she measured them herself using a portable decibel-meter, taking up to 20 readings per hand dryer to get an accurate reading. Many of those hand dryers clocked in louder than 100 dB, a volume that can cause permanent hearing damage in less than 15 minutes. Most models were loudest when hands were in the airflow and at the point where air exited the machines.
Keegan's study doesn't just help raise awareness about the dangers of hearing loss in children; it illustrates the fact that manufacturers' testing methods don't always involve real-world scenarios, and noise levels might exceed product claims for this reason.
We're not encouraging you to skip handwashing and avoid drying your hands in public bathrooms – but maybe you should reach for paper towels instead. For more information on hearing loss hazards for children, speak to your Louisville audiologist
Related Hearing Loss Posts:
---
Other Louisville Audiologists Office Locations
Downtown Louisville
117 E Kentucky St, Louisville, KY 40203
(502) 584-3573
Louisville Hearing Academy
111 E Kentucky St, Louisville, KY 40203
(502) 515-3320