Heuser Hearing & Language Academy has grown from serving three students during our first year in 1948 to supporting more than 150 children and their families every year. Our success is only measured by the achievements of the children we serve. We know there is no better reward than seeing a child graduate from our program and continue to accomplish new things. We work hard to build relationships with the children and families who turn to Heuser for help with a hearing, speech or processing delay or disorder in order to foster a lifetime of achievement, acceptance and courage.
Please take the time to get to know some of our graduates featured on this page to gain a firsthand look at how Heuser Hearing & Language Academy impacts lives throughout the communities we serve.
Addison's Story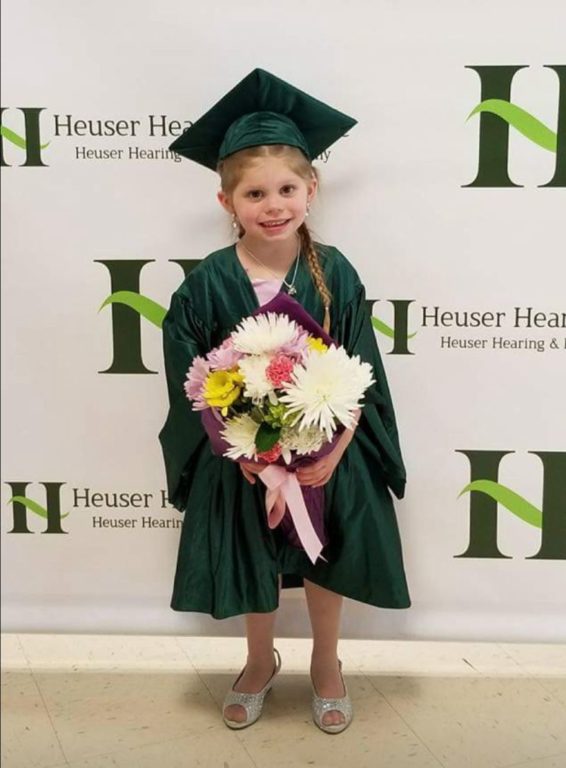 Just over 5 years ago, I was holding a perfect newborn baby girl in my arms and being told that she had "failed" her newborn hearing screening. I was overcome with sadness and fear for our gorgeous baby who was born to a life with so many beautiful sounds to offer, yet she was living in her own silent world. This was going to be a new journey where life would be tough, and we would be alone… or so we thought.
As time would pass and we would find more resources and learn more about our child, the future slowly became brighter. Addison was immediately enrolled in a therapy program where she made a lot of progress, but at 3 she had aged out of the program and moved on to Heuser Hearing & Language Academy. We knew from the very first visit that this was home… it was where she was meant to be! She had the privilege of attending Heuser for 2 years, and it became her home away from home, our extended family. She immediately found her groove and fit right in.
The teachers were more like bonus moms who would nurture her and care for her as if she was their own, and I couldn't be more thankful for each and every one of them. I gave them a baby girl wrapped tightly in her cocoon, who was barely 3 and wearing diapers (it's not exactly easy potty training a deaf child). Her speaking mainly consisted of some basic signs, a very limited vocabulary and the ability to throw a fit like you could only imagine when she didn't know how else to express her anger or disappointment.
At the end of this school year, they gave me back a butterfly with the biggest most beautiful wings, ready to fly away from all she has ever known and take on this world. They gave me a child who just last week asked us "can you hear the birds singing?" They gave me a child with a passion for music, who loves to sing and couldn't be more confident in her ability to do so. These are things I thought were merely my dreams for her… things I didn't realize would one day become her reality.
Addison was beyond ready, but I was not. Unfortunately, Heuser is only a preschool, and Addison is a big girl now. It's time for her to move on to kindergarten as any other child her age would. We will embrace this change and see her through it, but Heuser will always be our home. It's where teachers change lives and lifelong friends are made.
Pete's Story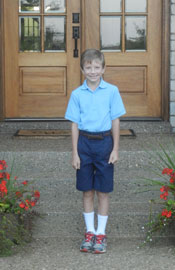 When Pete was three years old he had no verbal communication. The only word he could say was "uh." His pediatrician felt he was not talking because he had two older sisters and they were doing all the talking for him. He had been with First Steps and they too had no information other than Pete was "severely speech delayed." My husband and I knew there was much more.
In our quest to help our son, we stumbled upon Heuser. Although this was a school for the hearing impaired, we found that they could help us—and they did as soon as we stepped in the door. The staff knew that Pete was speech apraxic, and they knew that with intense therapy he could communicate and mainstream into society. Heuser held our hand and lead us.
Heuser's program was intense and trying for Pete, but it was successful! With the help of the school, speech therapy, and occupational therapy, it was a winning team.
Pete left Heuser and went on to mainstream in a "normal" class. He is currently a second grade student at St. Francis of Assisi, where he excels in both academics and athletics. He even tells me that he wants to be a scientist! If you had told me that five years ago, I would have never believed you! Heuser is truly life changing!
Kaelyn's Story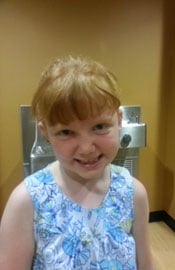 To describe HHLA in one word, I would use "family." A family is what I considered HHLA during my daughter's two-and-a-half years there. Merriam-Webster gives the meaning of family as: "a basic social unit consisting of parents and their children, considered as a group, whether dwelling together or not." I consider everyone associated with HHLA as part of this family, and a big family it is. This family consists of parents, children, teachers, aids, therapists, audiologists, doctors, nurses, directors, secretaries, administrative staff, board members, donors, and janitors—and the list goes on.
All of these individuals make HHLA the success that it is. So how has this family changed my daughter's life? Kaelyn was diagnosed with deafness at age two, and at age three she received her first cochlear implant.
When she started at HHLA, she was just about to turn four years old, so her speech was behind other kids her age. The family at HHLA worked so hard with her over the next two-and-a-half years on her speech. It seems so surreal to think that during that first year we were so excited on her saying a sentence with three words in it. After two-and-a-half years with HHLA, where is Kaelyn now? She is now in second grade at Simpsonville Elementary doing grad-level work. She still requires speech therapy, but it is now limited to one hour a week in a group setting. For the past two years, she has been in the choir at our church and loves to sing. She may not be the next American Idol, but her singing is a beautiful sound to me.
Thank you HHLA for helping my little girl sing.
RJ's Story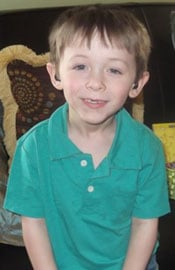 My son, Rick (RJ) Upton Jr., was diagnosed with mild to moderate bilateral hearing loss at the age of two. RJ failed his hearing test at the hospital, but when we took him for a follow-up test, it came back fine. For two years we thought RJ could hear us, but when he didn't start talking by the age of two, we knew something was wrong. We were told to contact Haley Godby, an audiologist at University Audiology Associates (UAA). Haley told us RJ would have to undergo an auditory brainstem response (ABR) test at Norton Children's Hospital. Haley told us that we would know the results that same day; we were nervous but also eager to find out if something was wrong with his hearing. We went to have the ABR test completed and when it was finished, Haley came out and told us RJ could not hear. We were also told he would need hearing aids in both ears. Of course we were emotionally upset because we knew our lives would change, and RJ would have to get used to wearing hearing aids at such a young age.
We started to fear the worst about RJ getting made fun of at school. That was far away at that point, but worries started to flood our minds. Haley was already able to take molds for his hearing aids since he was sedated for the ABR test, so we scheduled an appointment to go pick them up. When we went and Haley put the hearing aids in, the look on his face was priceless. RJ had no idea what was going on, but we knew he could hear us. We went home that day nervous about replacing batteries and cleaning the hearing aids, but we knew that we could do it.
We were notified of the First Steps program and to be accepted into the program, we had to meet with Cheryl Donaldson, Speech-Language Pathologist. Cheryl came to our home and performed the Five Area Assessment/evaluation so that RJ could be accepted into the First Steps Program and we could utilize their services. After being accepted, we were set up with an appointment with Kathy Wood, Coordinator, to come over and talk to us. Kathy is such a wonderful person and helped us out tremendously! We met with her a couple of times to process paperwork and decided on a speech therapist to meet with RJ once a week at daycare and once a month at our home. Paula Carby, teacher for the hearing impaired, was such a blessing to us and helped RJ meet all the goals we had set forth. Paula worked at Heuser and told us after completing First Steps (because it only goes to age three), RJ would be a wonderful candidate to attend the Heuser Hearing & Language Academy. A meeting was set up, and RJ was accepted into the school. We were told of the Heuser Hearing Institute that is right next door to the school, and we could select an audiologist there, which would be very convenient for RJ. We met with Angie Buckingham at the Heuser Hearing Institute; she checked his hearing aids, and we gave her all the information regarding what has occurred since RJ was diagnosed. We were very excited for RJ to start at Heuser and be around so many individuals who were specialized to teach and interact with the hearing impaired.
RJ started in the three-year-old program and had Fran Moore as his teacher. We loved Fran! She worked with RJ and helped him develop his language skills. She is so sweet, kind and caring; she loved every student and did everything she could to help them. RJ was lucky enough to have her as his four-year-old teacher as well. By kindergarten, RJ's progress was unbelievable! Nikki Sipe was RJ's kindergarten teacher; she was strict but also very kind to all of her students and cared so much for each and every one of them. Nikki would communicate with me on a daily basis, and I knew if I had a question, she would respond that same day. I would recommend Heuser to anyone who has a deaf/hard of hearing child. All the staff at Heuser was so wonderful and was always willing to help any way they could. Heuser cared for every single kid, and they were our second family for three years. They opened their arms to RJ, and we are forever grateful for the opportunity for him to have attended the Heuser Hearing & Language Academy.
—Ricky & Stefanie Upton
Call Heuser Hearing Institute at (502) 636-2084 for more information about Heuser Hearing & Language Academy.