Every year, countless Kentuckians deal with the problems associated with hearing loss but are unable to financially afford the proper care needed to live your best life. To help fill this void, we created the Listen Up! Project. It provides you or a loved one with the opportunity to volunteer at one of the Heuser Hearing Institute's charitable foundations partners around Louisville in exchange for credit toward the purchase of a hearing aid. This pilot program has been made possible by a generous donation from Delta Dental of Kentucky's Making Smiles Happen program.
List of Requirements
In order to participate in the Listen Up! Project, you must:
Show a need for hearing aids
Have limited or no insurance benefits available for hearing aids
Receive an evaluation before receiving hearing aids
Volunteer for 200 hours at participating nonprofits*
Be spirited and motivated to improve the community
Visit the Heuser Hearing Clinic twice a year for check-up visits
Be willing to sign a media release
*To qualify for annual upkeep of the devices, you must volunteer for 50 hours each year after receipt of your hearing aids.
The Facts
Hearing aid recipients will be selected for the program at the discretion of Heuser Hearing Institute based on several factors including hearing need, financial need and commitment to community involvement.
Hearing aids come with a 3-year peace of mind warranty and 3-year hearing healthcare subscription at Heuser Hearing Institute.
All non-profit organizations can participate as volunteer sites after approval from Heuser Hearing Institute.
Interested in Participating in the Listen Up! Project?
If you are interested in participating in the Listen Up! Project, answer the below questions and send us your story to tell us what makes you a great candidate.
Where would you like to volunteer?
How will hearing aids improve your quality of life?
How will hearing aids improve the quality of life of those around you?
What dream do you have or what goal would you like to accomplish once you are able to hear better?
Email your response along with your contact information to:
listenup@thehearinginstitute.org
Past Listen Up! Recipients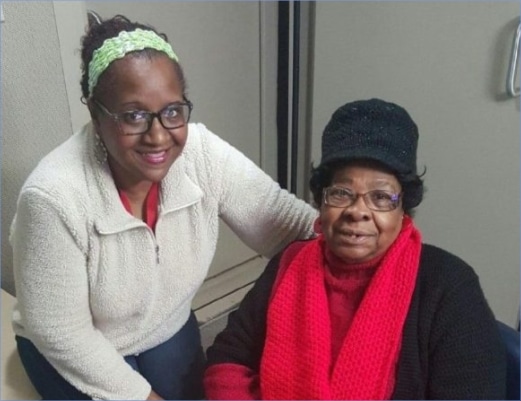 Rosie Lee Brown
Rosie Lee Brown is the first recipient of the Listen Up! Project and is a retired chef. She has been a volunteer for the past 12 years with the Foster Grandparent Program, where she served children with exceptional needs at the JCTC Early Childhood Development Center. She struggled with hearing loss for years and found it increasingly difficult to hear the children she worked with. Rosie loves her new hearing aids and is delighted that she can now hear the students!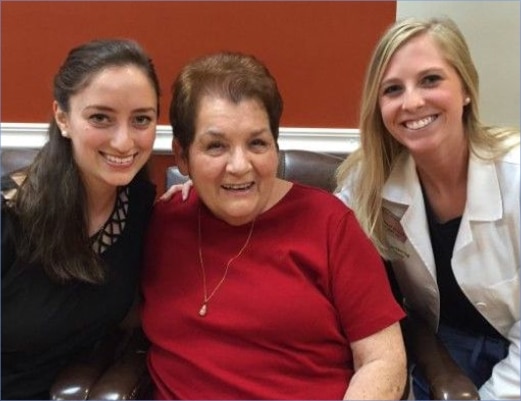 Carrie Ann Morrison
Carrie Ann Morrison received her hearing aids thanks to her niece, Jillian. Jillian fulfilled the volunteer service hours requirement on behalf of her aunt. "My aunt has been an excellent role model to both me and my sisters, and I want to make her proud. I thought this opportunity would be a great way to give back for all the support she's given me," said Jillian. Upon learning that her niece signed up to help, 73-year-old retired nurse, Carrie Ann Morrison was beyond thrilled. "The fact that Jillian thought of me and would be willing to commit all those extra volunteer hours, has made me feel so special. It felt like one of the greatest demonstrations of her love," said Morrison. Jillian and Carrie Ann grew close after another family member was diagnosed with a rare blood disease. Jillian credits her supportive childhood upbringing during this difficult time to her aunt's constant care and love.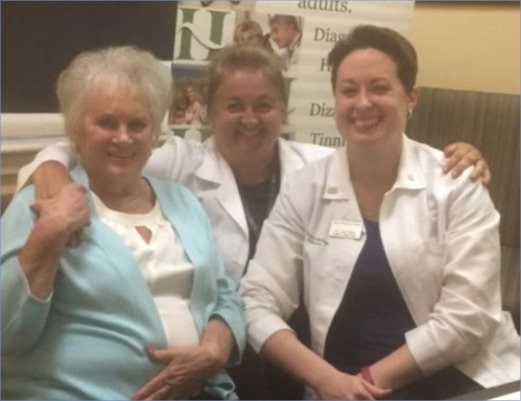 Pat Compton
A resident of New Albany, Pat grew up in Louisville where she worked part time for the U.S. Census Bureau. She volunteers in the gift shop at Baptist East Hospital, which she has been doing for the last 15 years. The first time she visited Heuser Hearing Institute, she was experiencing vertigo and she was sold on the care and treatment she received immediately. Pat suffers from severe hearing loss. "Since my hearing loss is so bad, I can't hear at all when there is more than one noise in the room," said Pat. This grandmother of five and great-grandmother of two wants to remain active and continue her volunteer work at the hospital, where she enjoys meeting the many visitors who come to visit their sick loved ones or receive much needed care. Pat is an active member in her church Bible study; hearing aids would help her enjoy her Bible teachings and friends more. She also performs with the Hikes Point Christian Church Praise Team.
Stephanie Carrier
In exchange for her hearing aids, Stephanie volunteered at Heuser Hearing & Language Academy. Without the support of the Listen Up! Project, she wouldn't be able to touch the lives of so many people who need hearing aids.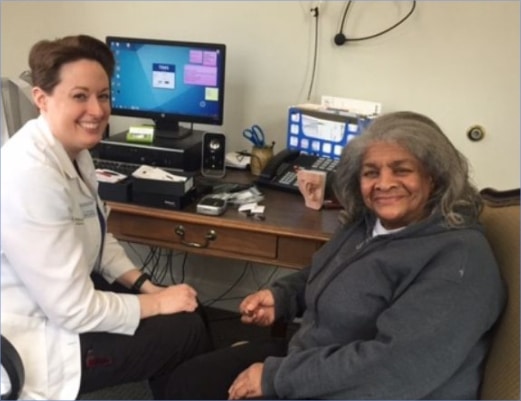 Helen Eddings
Helen Eddings heard about the Listen Up! Project through a friend at church. Getting new hearing aids has enhanced her quality of life in assisted living housing. She volunteers at St. Stephen Church, the Canaan Community Development Center and the Jewish Community Center.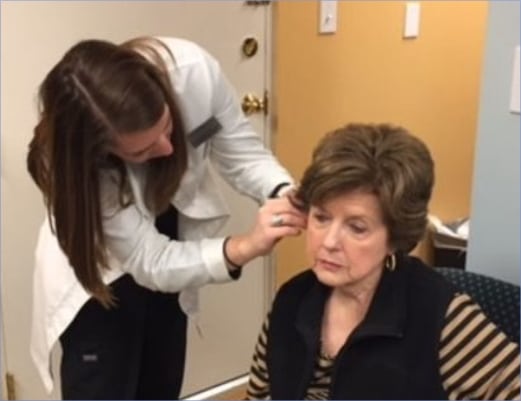 Diane Osborne
Diane Osborne heard about Listen Up! Project on a television ad. She is glad she did, as she can now go to the movies and can hear better at church. She volunteers at St. Joseph's Church.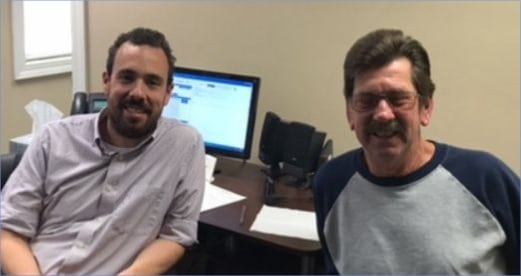 Danny Poehlman
Danny Poehlman volunteers at Hosparus Health and feels that his hearing aids have greatly improved his life, especially in everyday situations. He has been able to get more involved in his church, Bible study, local Boy Scout troop and spends more time with his family.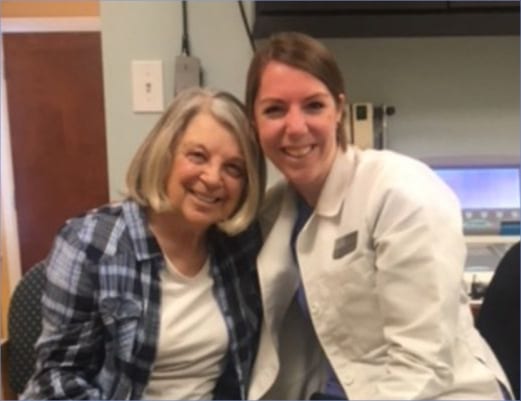 Verna Blair
Verna Blair was fitted with her new hearing aids at the Dupont Hearing Clinic by Dr. Margaret Denison. Verna's sister, Linda accompanied her to her appointment and they plan to volunteer together at Blessings in a Backpack.
James Calvert
James Calvert lost his hearing at an early age. He wanted hearing aids to improve his overall quality of life. He received his hearing aids after his mom, Kay, a HHI patient, donated a set of hearing aids she won to her son. James plans to do his volunteer service at Heuser Hearing Institute.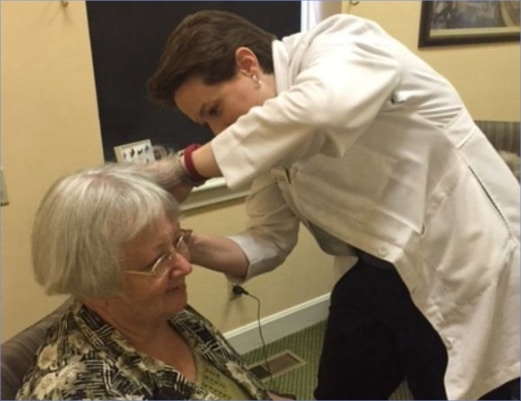 Greer Cowley
Greer Cowley lost her hearing over a period of time and found that she was having trouble communicating in her job as a teacher. She says the Listen Up! Project has done wonders for her. "I can hear the birds singing outside, which I enjoy," she said. "I can hear the leaves rustling. It's changed my life. For a while I was secluding myself because I couldn't hear or communicate. The ListenUp! project has helped me immensely."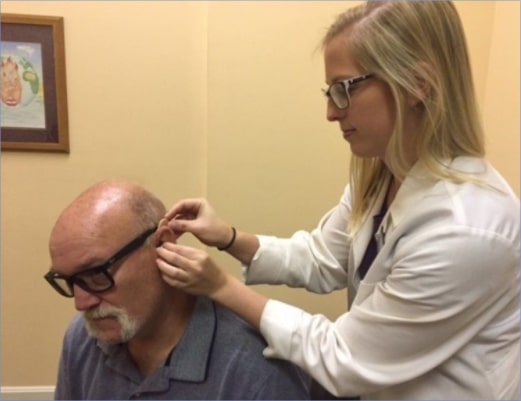 James Overburg
James Overburg, a Heuser Hearing Institute patient since 2015, was fitted for hearing aids thanks to the Listen Up! Project. James said that his hearing aids have given him a new lease on life and help him to hear better than ever.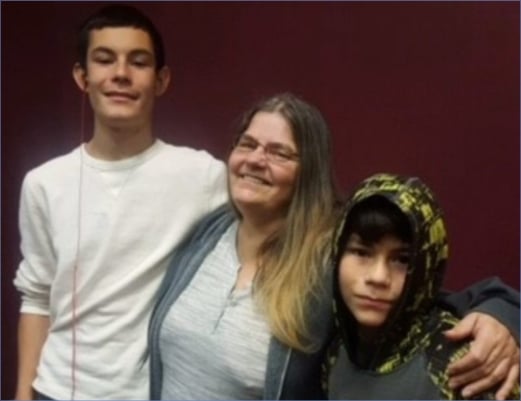 Babette Dimitrovich
Babette Dimitrovich lost her hearing at the age of two and was referred to the Listen Up! Project by Dr. Angie Beach.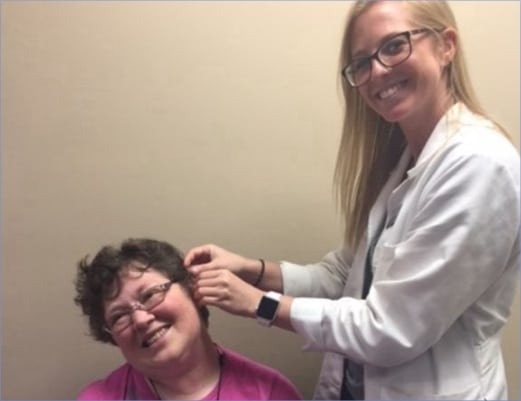 Jennifer Osborne
Jennifer Osborne was fitted for new hearing aids by Dr. Brandi McGraw. Jennifer has cerebral palsy which makes her unable to work. She volunteers with her church and at nursing homes.
Jerry Shelton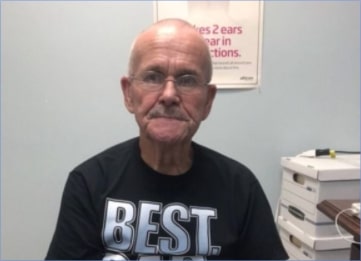 Edith Fawbush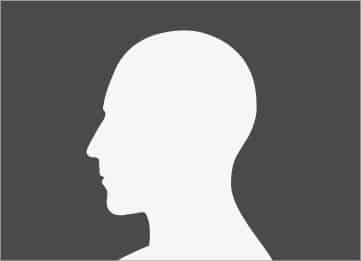 Lois Tooley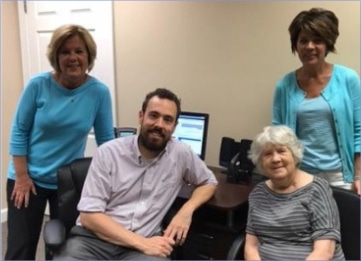 Interested in Listen Up! and think it's a great fit for you? Call Heuser Hearing Institute at (502) 584-3573 for more information or to schedule an appointment.