So, you have been told that your child needs to attend a speech class. What now?
Who Needs Speech Therapy?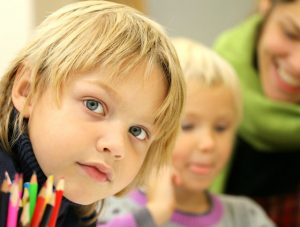 First things first, know that many kids in Louisville, Kentucky see a speech therapist. Often, it is a medical condition that makes speaking more difficult. The most common conditions that affect speech are:
Hearing loss.
Weak mouth muscles.
Cleft lip or palate.
Vocal nodules.
Autism.
Breathing disorder.
Swallowing disorder.
Speech and Language Disorders
There are a number of speech and language disorders; below are the most common.
An articulation disorder occurs when kids have trouble saying certain words or pronouncing them correctly. An example of this would be a child trying to say "run" but it coming out as "won." A common condition that falls in this category is a lisp.
A fluency disorder occurs when kids repeat a certain sound and have trouble saying the complete word. This would occur, for instance, if a child was trying to say the word "story" but got stuck on the "st" sound, making it st-st-st—story. A common condition that falls into this category is a stutter.
Resonance (also called a voice disorder) may occur when you simply have trouble understanding your child. They may start a sentence loud and clear but then end it in a quiet mumble. Oftentimes, children with this disorder sound like they have a cold or are talking through their noses.
Language disorder occurs when a child has trouble understanding people or has trouble putting words together to express themselves.
What Is a Visit like?
So what should you expect when you bring your child in for an appointment?
First, the Louisville speech pathologist will complete a speaking test, which is used to determine what type of speech problem your child has. They will ask your child to say certain sounds and words; they may choose to record the sessions or take notes during it to be used later.
Once the type is determined, the treatment most often recommended is practice. The speech pathologist will show your child how to correctly make sounds and instruct them to copy how they move their lips, mouth and tongue. Mirrors can also be used to help your child watch their mouth while speaking.
If your child is suffering from a language disorder, they will take part in speech class. They will learn how to put words together properly to form clear sentences. They may also play games to hone these skills.
Some children are treated quickly, while others take longer. The length of time and frequency of seeing a speech pathologist will vary per child.
The best treatment for a speech problem is practice. Discuss with your child's therapist what activities you can do with them at home and if there is anything else you can do to help. For more information, contact our office today.