LOUISVILLE, Ky. (August 28, 2018) –Taking place at Heuser Hearing Institute in Louisville KY, Fund for the Arts announced today a multiyear, million-dollar grant from Kosair Charities to create arts education programming and experiences for children across the Greater Louisville region. The grant was unveiled at a joint press conference on Tuesday morning.
This grant marks a significant step for both organizations. For the Fund, the grant strengthens the organization's role as a steward of sizable charitable gifts and reinforces its commitment to serving a wider range of communities. For Kosair, this grant represents an effort to meet the needs of every child throughout the region and state.
The purpose of this grant is to provide numerous, high-quality arts programming and educational experiences for children throughout Louisville and the surrounding counties. In so doing, the grant fulfills several tenets of the Imagine Greater Louisville 2020 plan, including increased arts access, engagement through education and the cultivation of new arts opportunities for the region's next generation.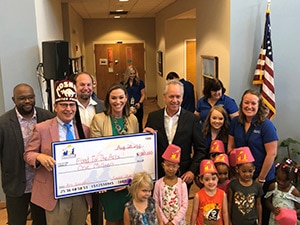 "We're humbled by Kosair Charities' remarkable investment and grateful for the immense opportunity that this grant represents," said Christen Boone, President and CEO of the Fund for the Arts. "Their commitment ensures impactful arts experiences for our region's youngest members and in doing so, creates a foundation for our arts community for years to come."
The grant also marks an evolution in the years-long partnership between the Fund and Kosair, which began in 2012. Since 2015, the organizations have provided Arts for Kosair Kids, a program that focuses on the healing, transformative power of the arts and collaborates with local arts organizations to engage youth on a weekly basis through arts instruction, performances, and exhibits.
"Since 1923, Kosair Charities has helped protect the health and well-being of children in Kentucky and Southern Indiana," said Keith Inman, President of Kosair Charities. "We are honored to further our relationship with Fund for the Arts, helping to provide enriching arts engagement for special needs youth, where art is such an integral part of their learning process."
The press conference announcing the grant was hosted at Heuser Hearing & Language Clinic. Idris Goodwin, the new Producing Artistic Director at StageOne Family Theatre, was also on hand to discuss the positive implications of this grant for the arts community as a whole.
"Kosair Charities is fueling life-long learning in a major way with this transformative investment in arts education," said Mayor Greg Fischer. "We know that by leveraging arts and culture, our students are more likely to academically achieve, be civically engaged, and graduate equipped with essential 21st century skills."
About Fund for the Arts
Fund for the Arts is a regional nonprofit with the mission to maximize the arts to drive economic development, education, and quality of life in our community. The Fund conducts one of the oldest united arts campaigns in the country and supports world-class institutions, community organizations and arts in education. Fund for the Arts also hosts the nationally recognized NeXt! leadership development program for young professionals and leads collective action across the arts and cultural sector. For more information, visit www.fundforthearts.org
About Kosair Charities
Since 1923 Kosair Charities has had one primary mission – helping children in need. We know that the quality of a child's tomorrow depends largely on the quality of health, medical treatment, and support a child receives today. Kosair Charities supports over 200 pediatric agencies in our community by donating funding for research, clinical services, health education and care each year. For more information, please visit www.kosair.org or call Lindsay Wehr at 502.637.7696 Ext. 103.
About Heuser Hearing & Language Academy
Since 1948, Heuser Hearing & Language Academy (HHLA), formerly the Louisville Deaf Oral School, has provided early intervention for children who are deaf and hard of hearing. Their goal is to give each child a strong foundation from which to build a promising future. From birth to three, each child receives services through our Parent Infant Program. Once they turn three, they enter the Academy where they also receive intensive speech-language therapy, art therapy, music therapy and dance. Today the Heuser Hearing & Language Academy, on the campus of the Heuser Hearing Institute is a resource for over 150 students a year.
For more information contact www.thehearinginstitute.org