After being named JCPS Exceptional Child Education teacher of the year in 2018 Katie Fromholt began her path toward this top level certification.
LOUISVILLE, Ky. – Jan 18, 2021 – Heuser Hearing & Language Academy is proud to announce that Katie (Massey) Fromholt has achieved National Board Certification in Exceptional Needs Specialist: Early Childhood through young adulthood with a Specialty Level in Deaf and Hard of Hearing for ages between birth and 21.
Katie (Massey) Fromholt began this process in Spring 2019 and finishing in June 2020 with all 4 total components to certification. In order to become a Board-certified teacher, teachers complete a performance-based, peer-reviewed process, demonstrating their proven impact on student learning and achievement.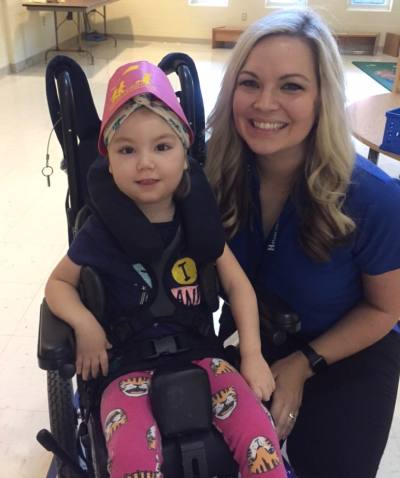 "Through the national board certification process, I learned how to observe and analyze my students' learning and behaviors in a different way. While you are teaching, you often miss things that are happening around the classroom. Watching videos of myself teaching and analyzing students' achievements, I was able to see smaller moments in my students learning where things connected and clicked for them. I also saw ways that I can improve my teaching including more positive reinforcement and review strategies," Katie stated. Katie has been teaching children diagnosed deaf/hard of hearing at Heuser Hearing & Language Academy for Jefferson County Public Schools since August 2009.
The National Board for Professional Teaching Standards' mission is to advance the quality of teaching and learning, which Katie has strived for since beginning her teaching career with a bachelor's degree in deaf and hard of hearing education with elementary education and her master's degree in interdisciplinary early childhood education from Eastern Kentucky University. The National Board for Professional Teaching Standards has a mission to maintain high and rigorous standards for what accomplished teachers should know and be able to do, provide a national voluntary system certifying teachers who meet certain standards and advocate related education reforms to integrate National Board Certification in American education. Recognized as the "gold standard" in teacher certification, the National Board believes higher standards for teachers means better learning for students.
About Heuser Hearing Institute:
Heuser Hearing Institute (HHI) is a multi-specialty nonprofit campus promoting the needs of children and adults with disorders of hearing and balance. Our organization has been serving Louisville and many of the surrounding Kentucky and Indiana communities since 1948. HHI began as an educational center called the Louisville Deaf Oral School many decades ago.
Today, the institute includes three facilities: the Heuser Hearing & Language Academy, which offers outstanding preschool and kindergarten programs for children with speech and hearing challenges; Heuser Hearing Clinic, which is home to a full-time staff of audiologists, otolaryngologists and researchers serving patients of all ages; and the regional Heuser Early Intervention Program, which provides home-based services for infants and toddlers through the Kentucky and Indiana First Steps programs. For more information visit www.thehearinginstitute.org.