Fall has finally reached Louisville! As the seasons change, we urge you to consider changing some of your hearing habits as well. There are a number of autumnal activities that can cause noise-induced hearing loss if you do not wear proper protection. While prolonged exposure to leaf blowers, power tools and sporting events can cause irreversible damage, there are steps you can take to keep your ears safe.
Leave the leaf blowing to the Louisville professionals.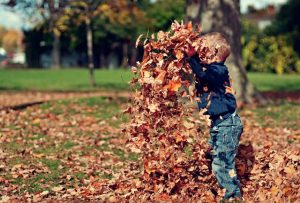 Leaf blowers become a necessity once fall is in full swing, but they represent an extreme noise hazard and are better left to the professionals. The most powerful models can create a stream of air exceeding 200 mph and with noise levels as high as 112 decibels. This can cause permanent hearing damage in fewer than 15 minutes.
If you aren't willing to hire a professional landscaper to do the work, consider replacing older models of leaf blowers with newer models  that offer reduced decibel output. Even the quietest leaf blowers available will gradually damage your ears, so always wear quality or custom earplugs during yard work.
Football season risks.
In stadiums throughout Louisville, football fans are gearing up for another fun season of competition. While there is no better way to support your home team than cheering wildly, this just so happens to be a perfect way to damage your hearing. Any sound over 85 dB should be considered potentially dangerous, and noise over 120 dB is known to cause instant hearing loss.
A new record was set at the Kansas City Chief's stadium; fans created 142.2 decibels worth of noise That is louder than a gunshot, jet engine or fireworks. Whether you're attending a high school, college or professional game, earplugs are essential to your hearing safety.
Talk to your audiologist about hearing protection.
The good news is that there is a hearing professional that can help you live the fall of your dreams. Your Louisville audiologist can work with you to determine the hearing protection you need to ensure your ears are safe while enjoy everything fall has to offer.