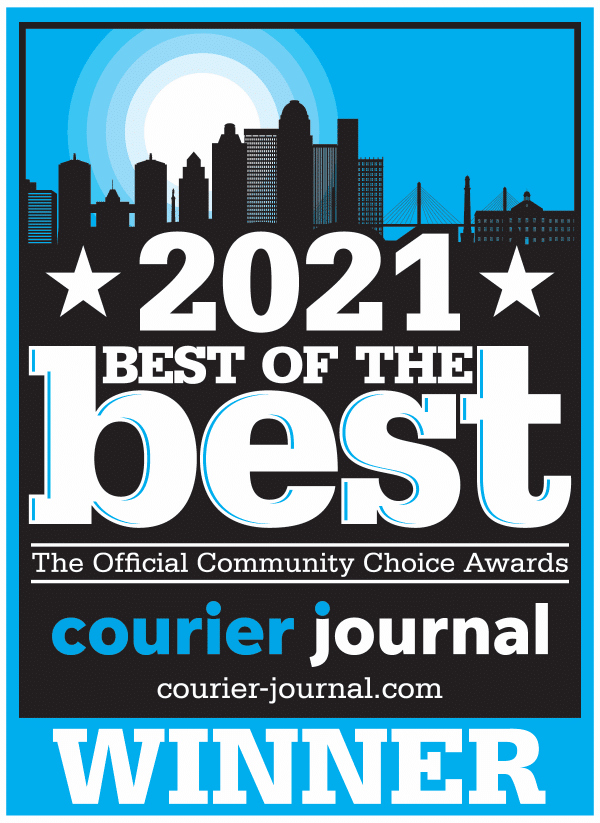 Louisville, Ky. (Sept. 27, 2021) – Both Heuser Hearing Institute and Heuser Hearing & Language Academy were recognized in The Courier Journal's 2021 "Kentuckiana's Best of the Best" lists. Community members vote on these lists to honor businesses, organizations, and people throughout the state of Kentucky.
The "Kentuckiana's Best of the Best" program recognized winners across 165 categories, from beauty and health to education, vehicles, dealers and services. Heuser Hearing Institute was voted Best Hearing Aid Center and Best Learning Center/Tutor and was a finalist for Best Customer Service. Dr. Ingrid Edwards of Heuser Hearing Institute was voted a Finalist for Best Audiologist. Heuser Hearing & Language Academy was voted a finalist for Best Preschool.
"I am honored to have been nominated by the people and to have been chosen as a Finalist in a year full of hardworking healthcare heroes. Our team here at Heuser has gone above and beyond for continued learning and patient care. My passion has always come from helping my patients, I am excited about the potential for future patient care. Our patients needed us in an extremely difficult time this past year and we proved that we can get a lot done right here in Kentucky for any patient suffering with lingering symptoms of dizziness or hearing loss," said Dr. Ingrid Edwards.
"At Heuser Hearing & Language Academy, our staff works diligently to ensure students with hearing loss and speech disorders are given the opportunity to explore a multitude of topics. Students are taught from very specialized curriculum by master certified level teachers. Students explore topics such as animals, plants, robotics, and coding," said Education Director Debbie Woods.
Brett Bachmann, CEO of Heuser Hearing Institute stated, "We are deeply honored to be recognized for all that HHI and our Language Academy do for our area.
"From performing state-of-the-art hearing research to providing comprehensive patient care and using innovative technology to help improve the quality of life for students and patients of every age and background. We look forward to continuing to grow and evolve as we serve the people of Kentucky and Indiana for many years to come."
To learn more about the Courier Journal's "Kentuckiana's Best of the Best" program and each of this year's recipients, visit Best of the Best (secondstreetapp.com).
About Heuser Hearing Institute
Heuser Hearing Institute (HHI) is a multi-specialty nonprofit campus promoting the needs of children and adults with disorders of hearing and balance. Our organization has been serving Louisville and many of the surrounding Kentucky and Indiana communities since 1948. HHI began as an educational center called the Louisville Deaf Oral School many decades ago. In 2008, Heuser's scope and mission officially expanded into the Heuser Hearing Institute. Today, the institute includes three facilities: the Heuser Hearing & Language Academy, which offers outstanding preschool and kindergarten programs for children with hearing loss and speech disorders; the Heuser Hearing Clinic, which is home to a full-time staff of audiologists and otolaryngologists serving patients of all ages; and the regional Heuser Early Intervention Program, which provides home-based services for infants and toddlers through the Kentucky and Indiana First Steps programs.