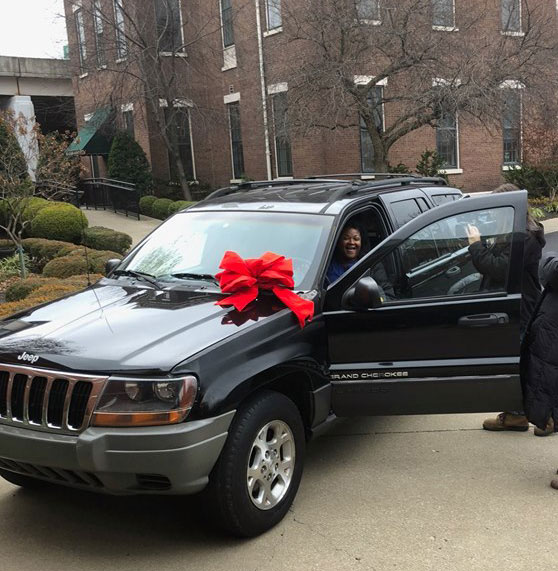 Media Contact:
Madison Hardy
J Wagner Group
Madison@jwagnergroup.com
(502) 235-9887
WHAT: Aileena Maureena Kennedy, better known to the students and staff at Heuser Hearing & Language Academy as "Smiles" has received a very special Christmas gift this year. Aileena has been working for years for Jefferson County Public Schools Nutrition services. She is based at Engelhard Elementary, but she spends part of her days preparing breakfast for the hear students who are deaf or hard of hearing at Heuser.
Since Aileena's car broke down she has been riding her bike to work every day. On Monday, November 26th she reluctantly told the teachers at Heuser that her bike had been stolen and she had to walk to work.
The staff at Heuser came together determined to find a solution to Aileena's transportation issues. Quickly one teacher found a car perfect for Aileena. Once hearing Aileena's story the owner of the 1994 Jeep Cherokee decided to donate the vehicle and the staff at Heuser has raised money for all repairs.
WHO: Aileena is a beloved member at Heuser, she is known as a tremendously hard worker with a huge heart! ""Smiles' is kind, places the children first and is always upbeat. Her infectious smile and love of life makes sure each child at Heuser Hearing & Language Academy starts off right each day. We are all happy to give this for her Christmas." Says Heuser Hearing & Language Academy Education Director, Debbie Woods.
WHEN: Monday, December 3rd at 10:30am WAVE 3's Shannon Cogan along with the students and staff at Heuser will give Aileena her new-to-her car!
WHERE: Heuser Hearing & Language Academy 117 E. Kentucky Street Louisville KY, 40203
###
About Heuser Hearing & Language Academy
Since 1948, Heuser Hearing & Language Academy (HHLA), formerly the Louisville Deaf Oral School, has provided early intervention for children who are deaf and hard of hearing. Their goal is to give each child a strong foundation from which to build a promising future. From birth to three, each child receives services through our Parent Infant Program. Once they turn three, they enter the Academy where they also receive intensive speech-language therapy, art therapy, music therapy and dance. Today the Heuser Hearing & Language Academy, on the campus of the Heuser Hearing Institute is a resource for over 150 students a year.