Media Contact
Madison Hardy | J Wagner Group
502.235.9887 Cell
FOR IMMEDIATE RELEASE
Heuser Hearing & Language Academy Teacher, Katie Fromholt
Named, "2018 Exceptional Child Education Jefferson County Public School Teacher of the Year"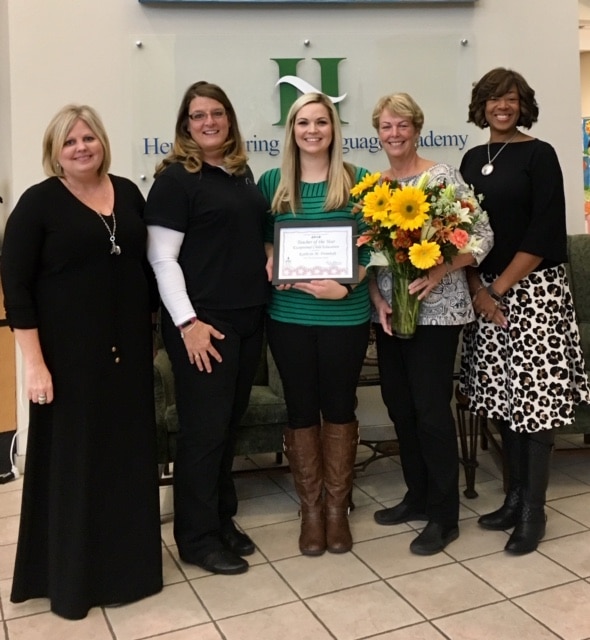 LOUISVILLE, Ky. (November 7th, 2018) – Heuser Hearing & Language Academy is proud to announce that Katie (Massey) Fromholt has been named the "2018 Jefferson County Public School Exceptional Child Education Teacher of the Year."
This award is given to an ECE teacher who has demonstrated exemplary performance over a period of time, involving such qualities as innovation, imagination, creativity and the ability to inspire. Katie has been awarded this special recognition because of her dedication, hard work, and willingness to go above and beyond her duties.
Katie (Massey) Fromholt's application was sent to KDE to compete at the state level for the 2018 KY Special Education Teacher of the Year. This award remains one of the highest honors available to Kentucky's teachers of students with disabilities. The top 3 candidates at the state level are then invited to the 2018 Council of Exceptional Children Conference held in Louisville on November 19, 2018. The 2018 state award winner will be announced during the opening session.
"Students need to have the confidence to work towards the goal of closing the achievement gap with their peers. Teachers should work for the individual student and their families by providing strategies to build the skills each student needs to reach their highest potential," Katie stated. Katie has been teaching children diagnosed deaf/hard of hearing at Heuser Hearing & Language Academy for Jefferson County Public Schools since August 2009.
###
About Heuser Hearing & Language Academy
Since 1948, Heuser Hearing & Language Academy (HHLA), formerly the Louisville Deaf Oral School, has provided early intervention for children who are deaf and hard of hearing. Their goal is to give each child a strong foundation from which to build a promising future. From birth to three, each child receives services through our Parent Infant Program. Once they turn three, they enter the Academy where they also receive intensive speech-language therapy, art therapy, music therapy and dance. Today the Heuser Hearing & Language Academy, on the campus of the Heuser Hearing Institute is a resource for over 150 students a year.
For more information contact www.thehearinginstitute.org