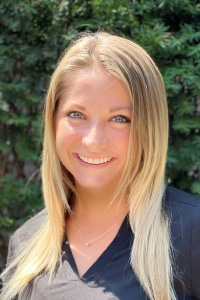 Brooklyn Taulman

Brooklyn graduated with a bachelor's degree in public health with a minor in psychology from Indiana University in Bloomington, Indiana. She is a third-year student in the audiology program at Indiana University and will graduate in 2023. 
The reason Brooklyn chose audiology was after seeing the decline of quality of life with her own 100-year-old great-grandfather after he declined to purchase hearing aids for hearing loss. Her family's communication strategies by the end of his life were diminished to writing on a whiteboard and having him read it. This broke her heart that her grandfather never received treatment for his hearing loss, and that she saw the detrimental effects on his quality of life. She knew she wanted to help patients like him and their families in these situations.
Brooklyn loves audiology because she gets the opportunity to work with a diverse patient population. She enjoys working with pediatrics and is excited to gain more clinical experience at Heuser Hearing Institute.
Brooklyn is a former personal trainer, so overall health and wellness are very important to her. She is currently training for her next half marathon. When not in the office she enjoys working out, hiking, traveling and wakeboarding.